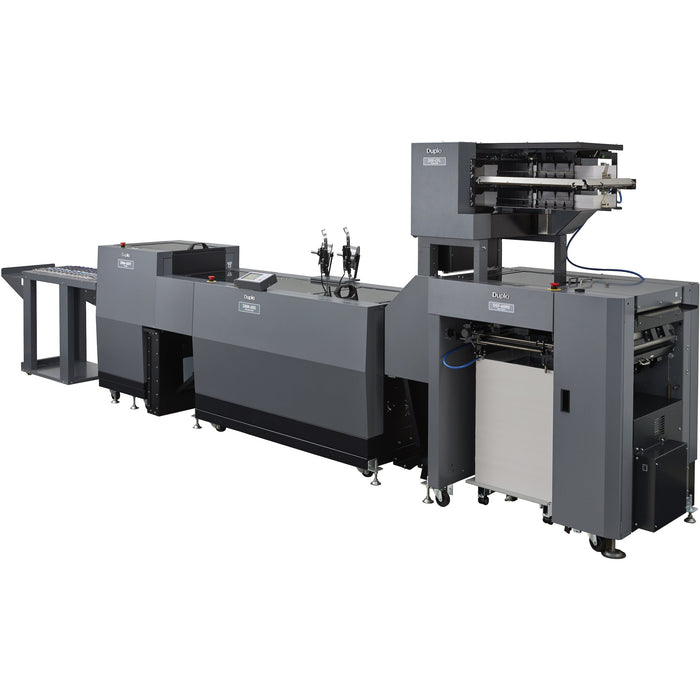 Duplo 600i Pro Digital Booklet System
Description

The 600i Pro Digital Booklet System is Duplo's flagship sheet feeding and bookletmaking system, integrating the DSF-6000 High-Speed Sheet Feeder with the DBM-600 Bookletmaker. With exceptional accuracy and automation, the 600i Pro Digital Booklet System offers the ultimate solution for converting short to long run, pre-collated digital or offset printed media into high quality booklets.

Equipped with a technologically-advanced Air Management System, the DSF-6000 provides an unsurpassed level of high speed performance that ensures consistent feeding of a wide variety of paper types and weights, from 64 gsm to 300 gsm, at a speed of up to 600 sheets per minute. The main tray offers a loading capacity of 24" (610mm), which minimizes reloading by supporting longer run times. Three-side air separation and integrated static eliminator effectively handle the static common with digitally printed media. Optical and ultrasonic sensors accurately detect feed errors, should they occur.

Utilizing state-of-the-art technology to automate and streamline the bookletmaking process, the DBM-600 Bookletmaker requires minimal operator intervention. Users can produce saddle, side, or corner-stitched booklets as well as letter landscape applications up to 4,500 booklets per hour.

Features

High volume sheet feeding and bookletmaking
Feeds up to 600 sheets per minute
24" high capacity stacker
User-friendly PC Controller software
Feeds up to 14" x 24" paper using the optional DSF-CFL Cover Feeder
Optional Barcode Kit ensures complete set integrity using 1D or 2D barcodes
Adapters are available to adapt the DSF-6000 paper cart to the HP Indigo 5500/7000 or Xerox iGen 3/4
Optional SCC module for in-line slitting/cutting/creasing or DKT-200 Two-Knife Trimmer can be added to produce full-bleed booklets

Key Applications:


Letter landscape booklets

Small size booklets

Calendars

Corporate Reports

Catalogs

Brochures

Yearbooks

Magazines




| | |
| --- | --- |
| DSF-6000 Sheet Feeder |   |
| Maximum Loading Capacity | 24.02"/610mm |
| Maximum Width | 14.33"/364mm |
| Maximum Length | 20.66"/525mm |
| Minimum Width | 4.73"/120mm |
| Minimum Length | 8.27"/210mm |
| Paper Weight | 64-300gsm fine quality and coated |
| Buffer Capacity | 10 sheets or less (0.06"/1.5mm thickness or less) |
| Maximum Set Speed | Up to 4,500 (4 sheets LTR SEF); DBM-600 and iSaddle |
| DBM-600 Bookletmaker |   |
| Signature Bookletmaking |   |
| Sheet Size | 4.13" x 6.69" to 14.33" x 25.19" |
| Folding Capacity | Up to 30 sheets |
| Stitching Capacity | Up to 50 sheets |
| Side/Side Stitch & Fold |   |
| Sheet Size | B5 LEF, A4 SEF, A4 LEF, A4SR SEF, A4SR LEF, LTR SEF, LTR LEF, LGL SEF, LGL LEF, B4 SEF, B4 LEF |
| Corner Stitch |   |
| Sheet Size | B5 LEF, A4 SEF, A4 LEF, A4SR SEF, A4SR LEF, LTR LEF , LGL SEF, LGL LEF, B4 SEF |
| Speed | Up to 5,200 sets per hour |
| Stitch Positions | Saddle, corner, side, fold only, side stitch, and fold |

See product brochure for complete specifications.