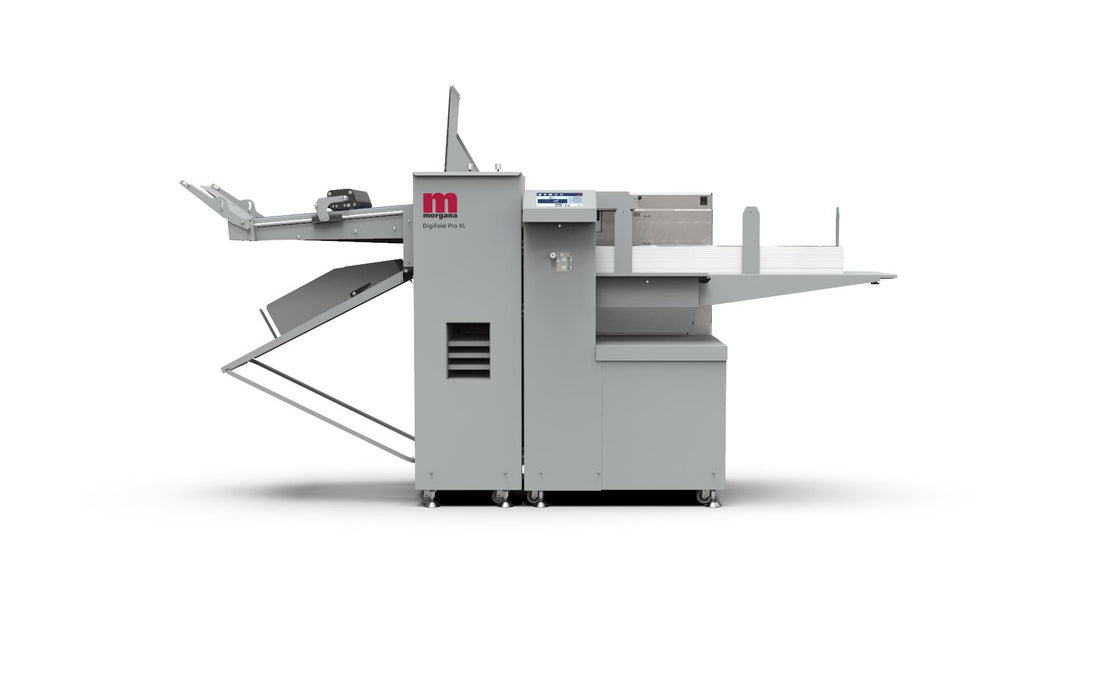 DigiFold Pro XL Automatic Paper Folding System
Description

The DigiFold Pro XL is the latest addition to the Morgana DigiFold family. Developed on the well proven Morgana DigiFold Pro, built with our unique, open design, suction feeder that handles stock sizes from 210 – 1300mm / 8.3'' – 51''  in length. This heavy-duty automatic creasing and folding system is designed to complement mid to high volume digital and offset production presses.

The Morgana DigiFold Pro XL is designed to complement the long sheet capabilities enabled in the production printers of today. It features a standard pull-out extension that enables sheet sizes up to 1300mm / 51''. This opens the door to new applications, such as covers for landscape booklets, book covers for oversized perfect bound books, multi-panel brochures and many other applications made from these long sheets.

 


Folds up to 6,000 A4 per hour / crease only – 7,500 per hour
Max loading capacity up to 200mm / 7.9"
Top fed vacuum feeder, ensures stable production for long runs.
Fully automatic operator functions. Key in sheet size, media type and thickness and the Pro XL will automatically set speed, roller gap and fan settings.
A unique air knife system for sheet separation.
Full cross perforation available, plus up to five inline perforation/scoring wheels.
Up to 30 creases per sheet (static crease)
Equipped with both a belt-stacker for folded sheets and a delivery tray for crease only jobs.