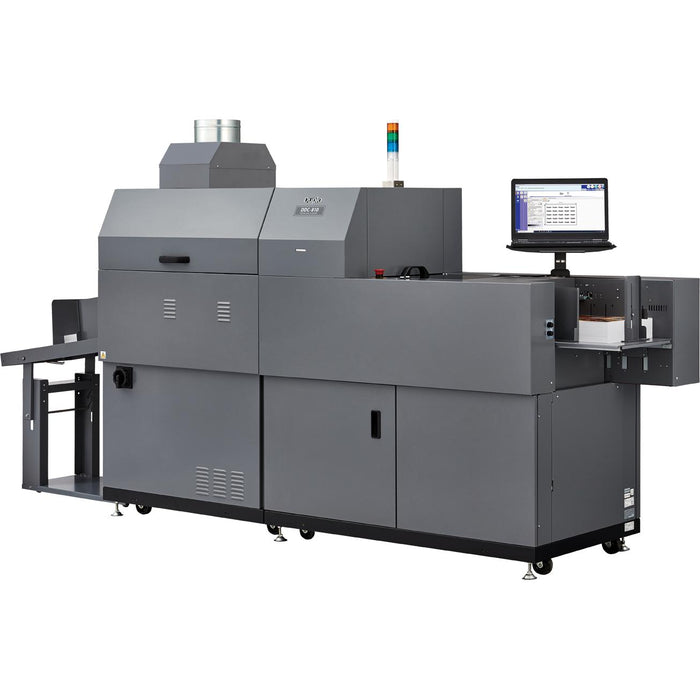 Duplo DDC-810 Raised Spot UV Coater
Description

Produce premium packaging, business cards, and marketing campaigns with the Duplo DDC-810 Raised Spot UV Coater. Highly viable and compact in size, the DDC-810 utilizes 600x600 inkjet technology, UV lamp curing and camera image registration to deliver production output with texture and depth that your customers can touch and feel.

The DDC-810's footprint does not take a lot of space, allowing you to create high-margin jobs from your own print shop. Using our digital technology and the output from your digital presses, you can drive profit through short-run and customized applications and see a rapid return on investment. A raised logo on a business card or product packaging delivers the message with style. The textures on the leather seats of a luxury car piece or the ice cold drops on a beer ad generate more engagement and higher response rates.

Features

Add print embellishments with spot coating, texture and tactile effects
Process offset and digitally printed output up to 14.33" x 29.13"
Integrates with Fiery JobFlow workflow automation software
Fast tracked delivery and installation so you can start running jobs within hours




Key Applications


Business cards

Custom packaging

Direct mail

Book covers

Greeting cards

Magazine covers

Labels and adhesives

Invitations

Bookmarks

Posters

Brochures

Paper Size

Width: 11" - 14.33"

Length: 8.27" - 29.13"

Feed Capacity

5.9" (150 mm)

Paper Type

Art/Coated

PP Laminated with no excess film over the edge of the paper

Paper Weight

157—450 gsm

Printable Area

13.03"

Production Speed

35 sheets per minute (letter size)

21 sheets per minute (ledger size)

Spot Layer File Format

PDF, TIFF

See product brochure for complete specifications.