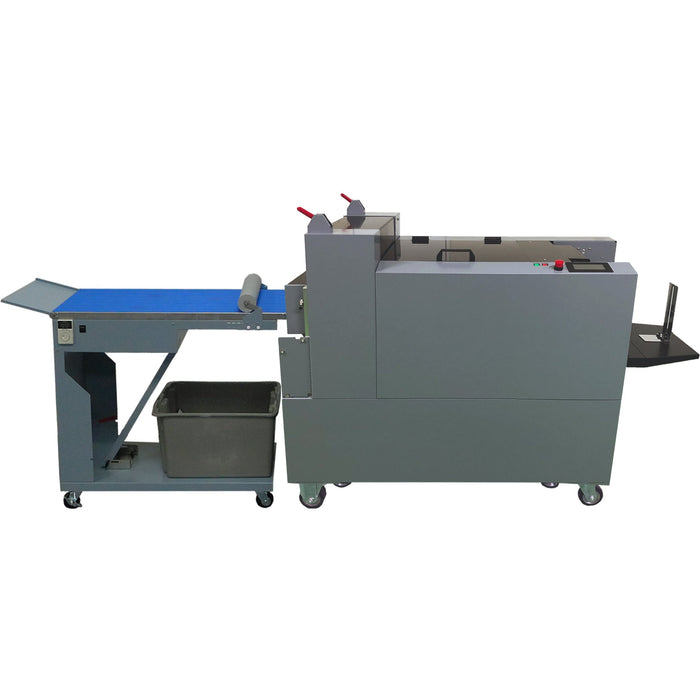 Duplo UD-310 Rotary Die Cutter
Description

The high-speed UD-310 Rotary Die Cutter delivers packaging and print marketing applications in distinctive shapes and sizes to help you stand out from the competition. Processing up to 4,000 sheets per hour, the UD-310 utilizes a magnetic cylinder and interchangeable flexible dies that affix to it to process paper, laminates, adhesives and synthetic stocks up to 400 gsm.

Offer custom finishing options by bringing this value-added service in-house. Suited for both long and shorter runs, the UD-310 is a highly productive and cost-efficient solution with minimal job setups and fast turnarounds.

Features

High speed die cutting
Easy-to-mount dies for quick changeovers
Automatically separates skeleton from finished pieces
Future in-line capability with a digital press, UV coater or high pile feeder

Key Applications


Die cut business cards

Custom packaging

Stickers and labels

Door Hangers

Bottleneckers

Brochures

Postcards

Much more




Paper Size

Min 8.267" x 11.693"

Max 15.35" x 20.47"

Paper Weight

Min 106 gsm

Max 400 gsm

Speed

3-step speed adjustment

High: 8000 rotations—up to 4000 sheets/hour

Medium: 5400 rotations—up to 2700 sheets/hour

Low: 2700 rotations—up to 1350 sheets/hour

Tolerance

+/-0.2mm

Feed Capacity

Up to 8.7" (220 mm)

Substrates

Paper, laminates, adhesives, and synthetic stocks

Duplo has partnered with AtlasFlex to offer a streamlined die ordering process. All of your Duplo machine specs are taken into consideration and all guesswork has been taken out of the equation in the die ordering process for you. A digital new customer setup form and custom die order form, as well as Duplo die template reference is available in one centralized website for your convenience. You can request a quote and upload a dieline directly to AtlasFlex on the website, reducing the time between concept to production.